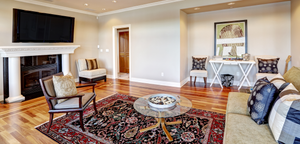 The Finest Rugs in Marin County, CA
Located in beautiful downtown Mill Valley California in the historic El Paseo building.
ALEXANDERS ARTISAN RUGS
Richard Habib
Design, production & representation of today's most innovative & visionary rug artisan rug designers & producers. Richard Habib is a highly respected rug merchant, dealing in all types and vintages of rugs. Richard is considered among the best-noted experts in the field. A Well Known Lecturer & author of various Related Articles on the Topic of Rugs and Rug History. Richard teaches design classes and has been featured on Radio and T.V.
★★★★★

"Richard Habib, owner of Alexander's Decorative Rugs knows his stuff. Even that sentence is an gross understatement. His knowledge and customer service goes above and beyond what one would normally expect from, well, anyone in the retail industry."
★★★★★

"Well today was that grand day where I saw the rug. It looks better than when it was even purchased. The silk glows and the tea wash is perfect. There is no cat odor and no stains. It's absolutely beautiful. Just a fantastic piece. Richard worked so hard to make sure that it was redone exceptionally. I couldn't ask for more, and I can't refer anyone any higher."
★★★★★

"Richard is the real deal. Hes been doing this for years and he is nothing short of a ture historian when it comes to rugs, their orgins and the various cultures that have had a major impact on the development of rug making through the centuries."